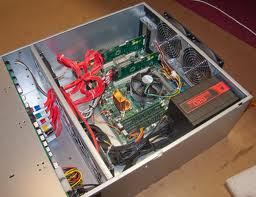 Over the years I have become somewhat of a digital pack rat.  I started with a simple setup consisting of 4 300GB drives attached to an adaptec raid card running raid 5.  When that ran out of space I added an additional 5 500GB hard drives and proceeded to fill those.  But a lack of raid resulted in a large loss of data one day.
It became clear to me that I need a lot more storage, more redundancy from drive failure, better throughput and something that could give me some bragging rights.
The solution was to build a large raid box with TONS of storage using multiple mirrored raid 5 arrays.  To do this I purchaced a Norco 4224 case and equiped it with the following:
1000 Watt power supply
Dual CPU Xenon Processor motherboard w/procs
16GB of Ram
All required 8087 -> Sata cables
Replacement (Silent) fans
12 1.5TB hard drives
12 2TB hard drives
Server 2008 R2
 Once completed this setup ran for a few years before i managed to fill it up and then require more space.  The solution I came up with was to add another Norco 4224 with an additional 24 3TB drives running off a new raid controller located in the previously configured server.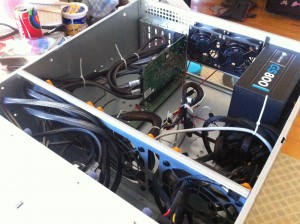 This expansion consisted of the following:

Both of these cases are rack mounted in my basement and a run 24x7.